We're just a few weeks away from the opening of the Star Wars Galaxy's Edge at Disneyland and Disney and Marvel Comics are starting to publish some tie-in comics. This first issue features Dok-Ondar and how he came to acquire an item that calls back to Star Wars: Return of the Jedi. Check out some of the things we found!
Ronto Roasters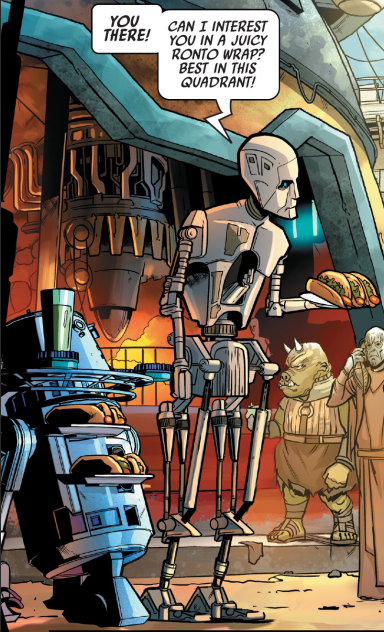 D23 describes "Ronto Roasters' large podracing engine will be firing up a barbecue pit for mouth-watering sandwiches. When customers line up to order, they will encounter a former smelter droid, carefully turning the spit of meats (and complaining about his job)." If you look at the background of the frame, you'll notice that there's a podracer engine hanging on the ceiling behind the droids. And in the foreground, there is the smelter droid! Pretty cool seeing a "sneak preview" of this food stand.
Ronto Roast and Meiloorun Juice
Those aren't tacos in the Smelter droids hands those are actually Ronto Wraps, a pita wrap filled with sausage and roasted pork. The guest is asking for Meiloorun juice, but the green color of the liquid sitting on top of the astromech is not the same as the color from the D23 preview photo.
Dok-Ondar's Den of Antiquities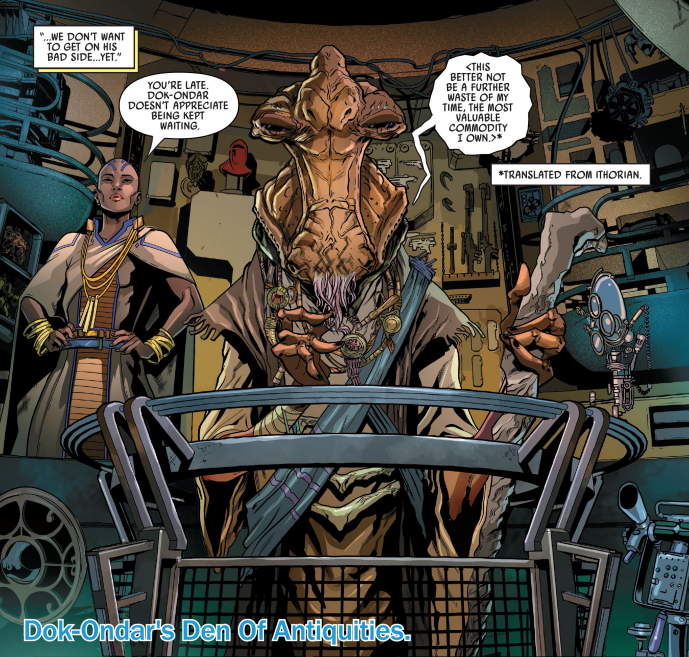 We get a glimpse of the inside of Dok-Ondar's Den of Antiquities. From here you can see the Imperial Guard helmet and all the blasters behind him in this frame.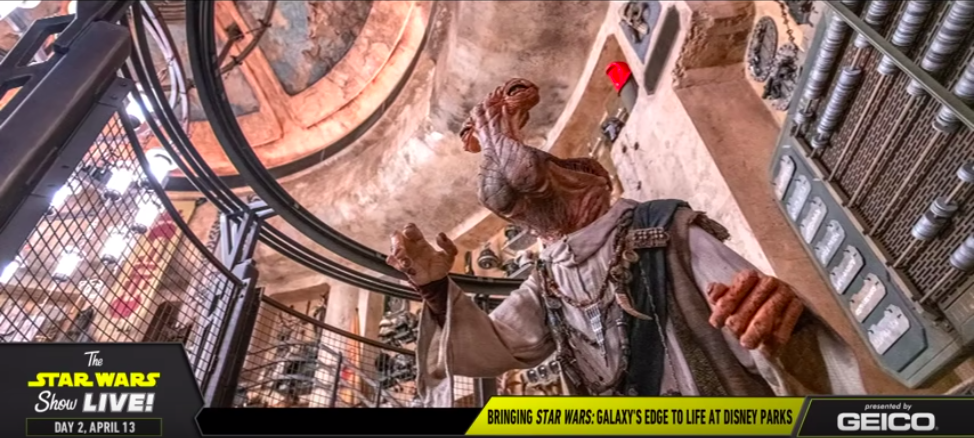 This matches the slide that was shown at the Star Wars Galaxy's Edge Disney Parks panel at Star Wars Celebration Chicago 2019. You can see the red helmet here and some guns molded onto some kind of frame above the abacus. Speaking of the abacus, it gets a feature of it's own in this next frame.
Here we see Han Solo smuggling the Sarlacc to Dok-Ondar's shop. It's possible that the monster in the green liquid in the D23 photo below is the Sarlacc in concept art form. We'll have to wait until we visit to parks to find out.
Comments